The Power of Now, by Eckhart Tolle
by Evelyn T.Woodson
(Izmir Turkey)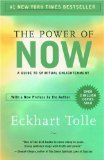 I have always been, beyond my contemporaries. When I review my early childhood on a cotton Plantation, in contemporary USA, I didn't fit in; my compassion ran deep.

While separatism and discrimination was government stamped and society was in a time warp of limbo, it hung heavy as dense Fog.

But in spite of the exerted attempts to exert exclusive power and control over my entire ancestral line, I know and felt a faint connection to something greater than all of it.

But the absence of validation and the preoccupation with survival overshadowed this insight, as my hunger and thirst grew, the intensity of family and communal abuses and violence escalated, I dreamed of stardom and making music for the benefit of family.
But they were the greatest detriment to any success, over time I began to sense a feeling of being cut off from any source, or that I had any personal power to achieve.
But at the core of me was a now that encouraged me to simply believe I could do anything any one else could do with the proper understanding and skills. This is the key to life but the example and application, was the difficult part because the Ego had etched grooves of the family and exploiters in so deep, it resulted in blockages to every effort I made to rise above the vibrations of poverty and failure. I'm grateful for the many writers who shared their knowledge that have helped me know I hold the Key to my self.
Today I found this other link in the chain and I'm grateful for it. I have Abraham Hicks and Wayne Dyer, Dennis Waitley, Steven Hawkins, and Melody Beattie, John Bradshaw, and much more. I hope the collective mind will be transformed to a higher vibration, and lift humanity out of the Black Hole, recently discovered that would described the Hell religions have advocated, Projecting Love to all is also a Key that opens the door to a Planet we all dream of, at the deepest level.