Sara, Book 1, Sara Learns the Secret about the Law of Attraction
by Andrea, RLLoA moderator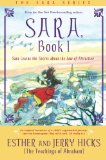 This is the #1 BEST book on Law of Attraction that I have EVER read! I felt SO uplifted and inspired by reading this book, that I immediately listened to the audio version after I finished reading the paperback! (...And, I have read a ton of Law of Attraction books, so liking one so much that I "read" it twice in one week is saying a LOT!)

This book helped even me to really understand and apply the Law of Attraction in a more effective way, and I developed so many new mantras for myself because of reading it, that I can't even list them all. Here is some of what I learned:

* That it is up to me to "keep my valve open anyway." This means that despite what other people are doing, saying, thinking, or reflecting onto me, I can, and do, I have the power to shift my own attention onto something that I find pleasant (and doing so is essential to the Law of Attraction working easily in my favor!)
* That practicing appreciation is the real key to everything. It is difficult at first, because we are not used to it, (or because we try to force ourselves to start with things we don't even like!) but it only takes practice. I basically knew this already, but the wisdom of Solomon (the "Abraham" character in the book) really helped me to truly understand and apply the practice in a gentle way.
*
That simply observing something
(or reading about it, talking about it)
causes you to vibrate with it
, which will bring more of whatever it is (or anything with a matching energy) into your life.
"You see, Sara, whenever you give your attention to anything, just by observing it you begin to vibrate as it is--while you are observing it. So, if you are looking at sickness, for example, for the time you're looking at or talking about or thinking about sickness, you're not allowing the stream of Well-being. You have to look at Well-being to allow Well-being." (Pg. 149)
* I got a whole new awareness of how pervasive it is, and how very
good we all are at saying "no" to what we don't want instead of saying "yes" to what we do want!
It is SO subtle: Don't be late, no eating on the train, I can't do it, I can't afford it, don't worry, I hope no one spills wine on my carpet, etc. And on and on it goes, when we really should be focusing on, and clarifying what we DO want instead!
And so much more, too.
This is easily the BEST and most helpful book on the mechanics of using the Law of Attraction that I have ever read.
Other books, even other ones by Abraham-Hicks do a good job of talking about the Law of Attraction, or even how it works, but no other book is as good, in my opinion, at really showing, by example, how to use it effectively! (Well, Sara, book 2 and Sara, book 3 are awesome too, but I will write separate reviews for those!)
Note:
When this book was first published, it was originally titled "Sara and the Foreverness of Friends of a Feather" and then, when Hay House became the publisher, they renamed the sub-title to "Sara Learns the Secret about the Law of Attraction," but it is the same book.