Real Life Law of Attraction - Sample Listing for Example
by Andrea, RLLoA moderator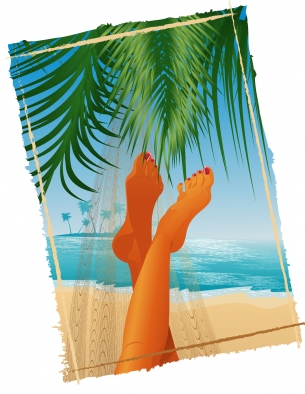 I Manifested a Lobster Roll!
I know it sounds like a little thing, and to many it is, but, as an example of the Law of Attraction in Action, it is a good one - because it was small, it was fairly immediate, and there wasn't too much emotional energy invested in it.
Earlier this year, I also manifested an Abraham Hicks cruise to the Panama Canal that had been sold out for weeks, using this exact same process that I will write about below, but, because there was SO MUCH more emotional "heat" on the cruise for me, it is not as good an example (at least for this story - I promise to write it up at some point, so that you can learn what to do when there is emotional heat on a subject, but that is MUCH more difficult to deal with!)
So, the lobster roll...
I had been watching a favorite, silly, mindless, guilty-pleasure TV show on the Food Network, when I saw a commercial that had a big, beautiful sandwich that looked like a lobster salad roll. I thought to myself: "Yummmm, that looks tasty - I'd love a good lobster roll, I wonder where I can get a good one around here?" I had a nice little moment day-dreaming about it, and imagining myself enjoying some tasty bites, when my show came back on and I started thinking about something else...
That was the last thought I had about the lobster roll at the time; I didn't try to solve the problem of where to get one, I didn't look up restaurants online to see who might make one, I didn't talk about it, I just let it pass with the mild idea that maybe I would look into finding one sometime later, maybe.
Sometime after that, after my show was well over, I had the impulse to go sit in the sun out by the pool for a little while, to get some naturally mood-improving vitamin D, and listen to one of my Abraham Hicks workshop audios on my mp3 player.
Doing that, sitting in the sun and listening to Abraham audios is one of my all-time favorite activities! It really is one of my favorite things to do - for some people it may sound like work, or something that "should" be done to learn more, or to "get better at this stuff", but for me it is pure pleasure. There are other things that some people LOVE to do, like hiking, or yoga, or baking, dancing, or whatever, that feel like "work" to me, but relaxing by the pool to the lilting tones of Abraham Hicks is like Heaven to me. The point is that I was going to do something that I found really fun -- something relaxing, fascinating, engaging, and peaceful -- I was going to one of my happy places.
So there I was, consciously noticing that I was enjoying myself... Loving the feeling of that warm radiant energy on my skin, listening to the birds singing, and the rustling of the breeze through the leaves on the trees. I was enjoying the peace and quiet, all the sensations I could feel and hear, and feeling how nice it was just to be alive in that moment, when I received a text message from a friend.
She was writing to invite me to join her at a delicious local restaurant that we both love for a meal later that day. My immediate instinct was "Oh, that would be fun!" so I texted her back saying that I would love to join her, and that I would meet her there later that afternoon.
After the text exchange with my friend, I went back to simply enjoying the sun, the pool, and the good Abraham wisdom, and then started to focus my attention on WHY it felt so good just to be sitting out there. I was feeling good about the day, and feeling good about where I was, so I was trying to "amp it up" by really getting into focusing on exactly what it was that was feeling so good about the experience I was having. I was really trying to nurture it, and get into it, and focus MORE on it - not to "get" anything in specific, but rather to just magnify and multiply the "feeling good" state that I was in by deliberately focusing on it and feeling it.
Right then, it hit me, it crossed my mind like a flash: "I think the restaurant we are going to later has lobster rolls??! ...I believe that I remember seeing one on the menu last time I was there, and everything I have had there is wonderful, so I think I will get my lobster roll!" That was easy!
It was such a simple thing, but it brought a little tear to my eye. I actually said out loud, "Thank you Spirit, thank you Law of Attraction!" ...Thank you for bringing my attention to the fulfillment of the "rocket of desire" for a lobster roll that I launched earlier today.
It was gratifying and reassuring for me to be reminded, even after studying and practicing the Law of Attraction for as many years as I have now, that the simple act of taking my mind OFF of my desire for the thing, and then going to do something fun and interesting INSTEAD -- allowing myself to fully immerse myself in the good feelings of the present moment experience -- is what brings ALL desires into manifestation!
The deliberate action of taking my attention OFF of the desire, and putting my attention ON to something that I like to do is what did the trick.
I believe that it would have worked just as well to start to think about something that you like to think about, or that gives you peace, or that brings a smile to your face and makes you feel happy - something that distracts you enough so that you are NOT thinking about the fact that you do not yet have the solution in mind yet. Simply enjoy whatever it is that you are doing in the moment - and really notice WHY it feels good so you can amplify those attractive thoughts!
---
The information in this listing was written by the Law of Attraction professional named below, and is provided as a free service to the Law of Attraction Community for the benefit of those who are interested in learning more about the Law of Attraction and manifestation, or working with a Law of Attraction Coach.

We do not have information on pricing, services, schedules or other details. To receive this information, please contact the individual or company directly - their contact information appears below.

---
Andrea Sholer
, webmaster
Real Life Law of Attraction
Los Angeles * Phoenix * Worldwide
Contact us through the "Contact Us" form on this site
www.real-life-law-of-attraction.com
Some of our testimonials:
"Thank you. Your unique ability to break down the often over-complicated explanations of otherwise simple principles and explain them in a context that is understandable to a wider audience is simply inspirational. This website is a joy to browse."

Stephen
London, England