Positive Psychology and the Law of Attraction with Rahman- Philadelphia, PA
by Rahman Beckwith, PsyD
(Merion, Pa, USA)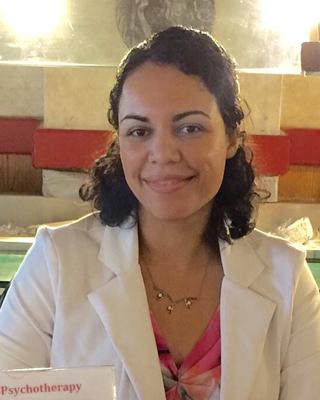 Dr. Rahman Beckwith, Holisitic Psychotherapist
THE KEY TO HAPPINESS

Are You Happy?
Do you want to know the key to happiness?

In just 3 days I moved from a 6-7 on a happiness scale to an 8-10! Within a week I was making more money, hopeful about my future, and happy most of the time.

The great news is that you can do this too!!

Last month I was inspired to participate in some happiness research being conducted at the Positive Psychology Center at the University of Pennsylvania.


Little did I know that this 2-week intervention would change my life.


I had been a watcher of The Secret, and a follower of the Law of Attraction for nearly 10 years, but something had not clicked in my brain. Sure I could make a vision board with the rest of them, but manifesting something now and again seemed like cheap thrills.

Then this happiness study at UPenn challenged me to make a positive emotion folder and to look at it for a couple of minutes each day, for two weeks. I later found that this is an actual method called the Kaizen way, in which one takes miniscule steps towards a goal, often only for a couple of minutes a day, which results in the lifting of resistance. This ultimately changes large life behaviors and patterns. Well that is what happened. I made my gratitude folder filled with links to positive Youtube videos (I had decided this would be my way of logging and expressing my joy, inspiration, etc.).

Initially, I watched one or two videos. As I watched these, I came across more. Within several days I had watched hours and hours of uplifting material (mostly consisting of the Law of Attraction as presented by Esther Hicks). I was literally reprogramming my mind for happiness by consciously making the effort to do so. What had begun with several minutes a day turned into hours and days of focused effort on cleaning up sloppy, negative thought patterns.

The result was that I learned to maintain an exclusively positive mental state. Now, I am at levels of happiness nearly all of the time! Where I had been moderately satisfied with life, I am now so overwhelmingly grateful for what is going well, that I am thrilled with life! Like a child, I optimistically find every moment to be full of potential for joyful experiences.
The scale below shows what Law of Attraction has referenced as the emotional guidance scale. Take a moment to find out which emotions are familiar ones that you feel daily. This is where you fall on the scale.

One must strive to stay as high on the list as possible in order to be connected to Source and to creative energy. This is of utmost importance. THIS IS WHAT MOST PEOPLE MISS IN THE LAW OF ATTRACTION TEACHINGS!! People usually focus on their goals so much that they fall down into discouragment (16) or dissapointment (12). My work was to keep myself at contentment (7) or above at all times! Setting that intention is what led to my ability to discipline my thoughts and ultimately to become a happier person in just days.
I will be writing a book on Positive Psychology coming soon. Email me to pre-order it.

Meanwhile, I am here to offer you HAPPINESS COACHING SESSIONS, which help you to move to higher and higher levels of joy, just as I did.
If you would like to find out more about my happiness healing services click here.



The Emotional Guidance Scale

1. Joy/Appreciation/Empowered/Freedom/Love
2. Passion
3. Enthusiasm/Eagerness/Happiness
4. Positive Expectation/Belief
5. Optimism
6. Hopefulness
7. Contentment
8. Boredom
9. Pessimism
10. Frustration/Irritation/Impatience
11. Overwhelment
12. Disappointment
13. Doubt
14. Worry
15. Blame
16. Discouragement
17. Anger
18. Revenge
19. Hatred/Rage
20. Jealousy
21. Insecurity/Guilt/Unworthiness
22. Fear/Grief/Depression/Despair/Powerlessness

From the book "Ask and It is Given", E. Hicks, p. 114








---
The information in this listing was written by the Law of Attraction professional named below, and is provided as a free service to the Law of Attraction Community for the benefit of those who are interested in learning more about the Law of Attraction and manifestation, or working with a Law of Attraction Coach.

We do not have information on pricing, services, schedules or other details. To receive this information, please contact the individual or company directly - their contact information appears below.

---
Rahman Beckwith, PsyD
Holistic Therapy with Dr. Rahman
Merion Station, PA, 19066
Rahmanheals (at) gmail.com
https://drrahmanbeckwith.wordpress.com/
rahmanheals.blogspot.com
Follow us on Facebook: Holistic Therapy with Dr. Rahman
On Twitter follow @Rahmanb
Rahman Beckwith, PsyD is here to help you to bring more joy to your life through conscious focusing. Using a mixture of Positive Psychology and spirituality she helps people to reach new levels of wonderful feelings and experiences in their lives!
Through teaching appreciation based happiness enhancing techniques, she helps you to become a happier and thus more successful person!
The Secret Truth about Happiness!
Investing in your happiness actually increases your success according to Harvard's research on what is called 'The Happiness Advantage' (Achor, 2010). This means that instead of striving for success and gains at all costs, sacrificing our rest, peace, and joy, we would actually do better to attain happiness first, and then allow the positive material outcomes to follow! So whatever your situation may be presently, there is no better way to improve it, than to start improving your inner state today! Sign up for happiness coaching sessions here.
And the good news is that this type of positive thinking is not just about putting on rose-colored glasses and forgetting your problems. Wait- actually it is!!… But in the forgetting you become a person who is better able to RESOLVE your problems from a new perspective. Instead of wrestling with the status quo, the new, happy you will see new solutions. Your brain is scientifically shown to be more versatile and resourceful when you are feeling good!! Thus, through this process, a great many of your pressing problems in all areas will be resolved with much less effort on your part as you become the happier, more capable version of yourself!
Dr. Beckwith offers Coaching sessions (which can be done remotely by phone or skype), E-courses and Books.
Check out her Positive Thinking E-course here: https://drrahmanbeckwith.wordpress.com/booksandcourses/
People are saying about the Think Happy Thoughts E-Course:
"One of the aspects that I liked about the course was that it was in video format. This is the first e-course I have taken like this. I feel the enthusiasm, the sense of joy and positivity that you are emanating through the video recordings are very beneficial and uplifting, definitely transmitting happiness.
I also like the daily journaling. I feel/felt there is a power in writing and in the written word(seeing it) that's very therapeutic. For me it shifts the energy and my perspective to a higher frequency.
I witnessed a significant improvement in my quiz scores. For the subjective quiz, my scores nearly doubled for each question, from when I initially started the course. For the flourishing scale my first score was 35 total, after completing the course it was 51! Pretty astonishing."
"Your course helped me a great deal to pinpoint key blocks, patterns & behaviors that have been limiting my capacity to truly live and experience a happy, rewarding and fulfilling life. Already a big shift has occurred for me. I am truly grateful for your explanations, sharing your experiences and the tools to maintain this state going forward."