Ask and It Is Given
by Andrea, moderator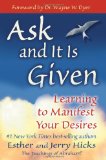 This is the first book (that I am aware of) on the Teachings of Abraham by Esther and Jerry Hicks. The main part of the book is comprised of 23 classic Law of Attraction exercises and processes that Abraham used to refer to often in their Art of Allowing workshops. I say used to, because in the last few years, they rarely bring up any of these old processes with any frequency, with the exception of the Focus Wheel process.

Yet, on the subject of the Law of Attraction it is an excellent reference book, and the processes themselves are still timeless and useful. Working through the exercises is also an excellent way to understand how the Law of Attraction is working on deeper levels as well. Additionally, "Ask and It Is Given" is a great primer on much of the Abraham and Law of Attraction terminology and lingo - like 'The Emotional Scale', 'The Workshop', 'Going Downstream', 'Book of Positive Aspects', etc. As far as I know, it does not go into a definition of 'The Vortex' at all, because it was published before Abraham started using that term.
In my opinion, the introduction and background part of the book (the first half) is clunky and poorly written. It could really use the skills of a talented editor. My assumption is that it is primarily a written transcription of excerpts from live audio, and it reads as such. ...But don't throw the baby out with the bathwater - get this book for the processes and exercises, and leave the introduction to the Law of Attraction to other sources.
Ask and It Is Given is one of the few books that I believe is a must for any Law of Attraction enthusiast. Like my own book,
"The Answer is YES!"
(when it comes out,) it is the kind of book in which you can turn to any page in the processes section, and find wisdom for dealing with whatever you are going through at the time! It's well worth the price you'll pay for it.